Effectiveness -

6.5/10

Security -

5/10

Natural ingredients -

5/10

Popularity -

4.5/10

Price -

4.2/10
Working: Eyelash thickening and extending eyelash serum Rapidlash works within six weeks. It contains peptides, vitamins, proteins, and moisturising substances that take care of not only eyelashes but also of eyebrows. Moreover, the product provides nourishment, smoothing and highlighting of eyelid skin. Additionally, thanks to Rapidlash, eyelashes become glossy and more flexible.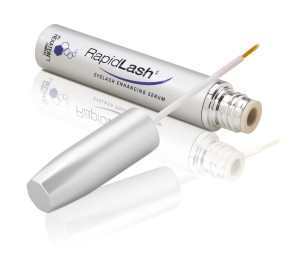 Application: Rapidlash eyelash serum has to be put on every evening until looked-for results are obtained. In most cases, desired outcomes are produced within three months. After that, the product can be applied only a few times per week. Application is easy because drawing a single line on upper eyelash base is all it requires.
Another good aspect of the product, the eyelash serum is absorbed quickly and does not run down into eyes.
Effects: It takes a month to observe first changes in eyelashes' condition and appearance. Firstly, eyelashes become stronger, harder, and darker. Approximately in the middle of Rapidlash treatment, eyelashes become slightly longer. Unfortunately, after that, eyelashes' look does not change at all. To make the matter even worse, the last dosage of the product is connected with gradual disappearance of the outcomes.
Package: Rapidlash eyelash serum has one of the most beautiful and eye-catching packages. It is a purple and pink cardboard box. This outstanding little box contains a silver bottle holding 3 ml of the eyelash serum.
Price: Price of Rapidlash is very high. Definitely, too high for the short-lived outcomes.