Effectiveness -

7.5/10

Security -

6.3/10

Natural ingredients -

5.8/10

Popularity -

6.7/10

Price -

5.6/10
Working: Realash eyelash serum is recommended for all people who would like to have longer, denser, and stronger eyelashes. There are no contraindications excluding men from using this product. This information concerns mainly those men who have lost their lashes as a consequence of undergone chemotherapy. It is advisable to consult with a physician the idea of beginning Realash treatment, especially when a person is an allergic sufferer or has got sensitive eyelid skin.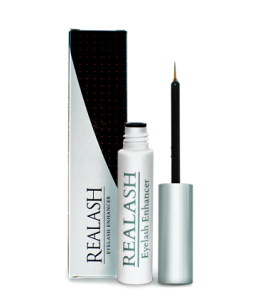 Application: Realash eyelash serum has to be applied on cleansed and dried out eyelid skin. The product is supposed to be reapplied every evening, until desired outcomes are achieved. After that, the cosmetic can be put on every other or third day. In order to distribute the eyelash serum, you have to use the brush provided. Thanks to it, a thin line has to be drown on upper eyelash base.
Worth pointing out, despite liquid consistency, Realash is absorbed quickly and does not run down into eyes.
Effects: Generally speaking, small changes in eyelashes' look are noticed within three weeks. The expected effects are visible after two months. Definitely, eyelashes become stronger, prettier, regenerated, and longer. What is more, these look as if they were denser. Unfortunately, the outcomes produced do not last long. These disappear after two months since the last application of Realash.
Package: Realash eyelash serum is closed in a white, plastic bottle. The package contains 3 ml of the eyelash serum, which is enough to conduct a six-month treatment. Despite the bottle with the cosmetic, the box stores a leaflet containing all essential data concerning the product.
Price: Realash eyelash serum is rather expensive. The producer does not provide for any discounts or specials.