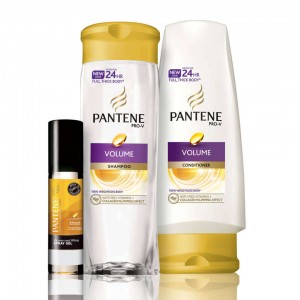 Certainly, thin hair owners know how hard is to set their strands the way they want. If you encounter this kind of problem and if you want to tame your unruly hair, it is crucial to treat hair with appropriate cosmetics as well as set right hairdo. Pantene Pro V will help you with accomplishing this task.
How to take care of flat hair?
If your hair is sparse, thin and weak, it definitely requires specialistic care performed not only at home but also at a hairdresser's. A professional hairdresser knows how to cut hair so as to lift your hairstyle up and add this looked-for volume. Density improving hairdos are rather short or medium-lenght (hair is no longer than shoulder line). Strands have to be layered.
There are cosmetics that are able to boost hair volume of thin hair. Such products fortify hair roots, lifting all the strands a little bit up. One of such cosmetics is Pantene Pro V collection.
Pantene Pro V cosmetics.
The collection contains, among others, a hair mousse (200 ml) and a hairspray (250 ml). The products do not only boost hair volume by lifting hair up but also fix the hairdo. The mousse does not clump hair together. When blown-dried, the strands are not sticky just soft and sleek instead. Moreover, hair is not weighted down yet looks as if it doubles its quantity. A huge advantage of the Pro V series is that the effect of lifted-up hair last long. The hairspray fixes hairdo well without clumping strands together. Furthermore, the cosmetic is fairly efficient and smells right. Last but not least, both products are divided into five levels of fixing and lifting-up hairdos.