Eyeshadows by Bourjois, Eye Pearls, contains a lot of pigments. Owning to this feature, we can gift our eyelids with intensive and vivid colours. What is more, the product has cream-like texture, is easy to apply and holds long when put on (even up to eight hours). Another positive features to point out, the eyeshadows stay true, neither wear off nor cumulate in crease of the eye. It is also worth noticing that the palettes contain small sparkling particles that are able to highlight eye makeup and make your skin look healthy and radiant. What is also crucial, the eyeshadows blend flawlessly.
Additional asset of Eye Pearls by Bourjois are the directions of use provided on the bottom of the case. In short, the leaflet gives detailed description of outcomes that can be obtained, as well as an image guiding a user how to apply the eyeshadows in order to produce a particular effect. Thanks to these instructions, smoky eye effect will be no longer a misery for you. And how to do smoky eye? Start with applying the brightest shade on the inner corner of the eye as well as under eyebrow line. Thanks to this beauty trick, you will make your eyes highlighted. Coat the entire upper eyelids with the slightly darker eyeshadow. It will work as a base. Use the third shade to define crease of the eye. Use eyeshadow number four to coat half of the eyelid. Try to blend the shade with the already-applied ones.
Finally, apply the darkest shade on the outer corner of the eye. Obviously, blend it with the other shades.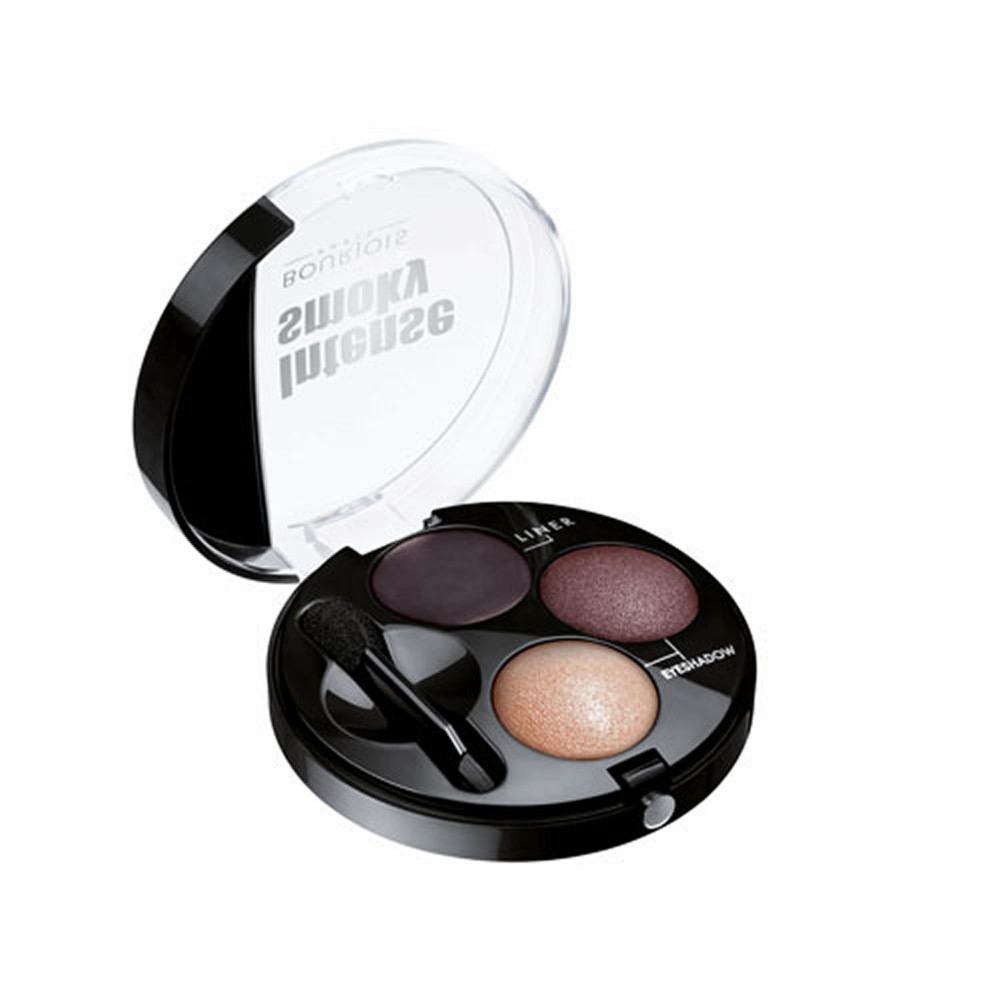 Bourjois eyeshadows are available in several colour schemes. To demonstrate, you can choose among Creation (blue, grey and black shades), Illusion (pink and violet shades), Sublimation (beigers, nudes, and gold shades) and Revelation (green shades). The shadows in the palettes are selected in such a way to facilitate creating stunning effects on your eyelids. Basically, each palette consists of five luminous shades. Unfortunately, you will not find any applicator inside a case. Each palette contains 2,6 grams of the eyeshadows.
Application of Bourjois eyeshadows is fairly easy. All you have to remember though is that eyeshadows that are highly-pigmented tend to colour eyelids promptly. Therefore, do not overdo with the amount of the product applied on. Actually, you can use a small, round brush to put on the eyeshadows. The good news is, you can apply an eyelash line using the very shades. You do not have to use only an eyeliner or a black eye pencil anymore. All you need is a brush, the flat one which is cut at angle. In a case, you would like your eyeshadows to hold longer on the eyelids, damp the applicator in water and apply slightly wet product.
The last piece of information concerning Eye Pearls eyeshadows by Bourjois. The product was tested by ophthalmologists. With this in mind, these cosmetics are safe for people having sensitive eyes as well as for glass or contact lenses wearers.