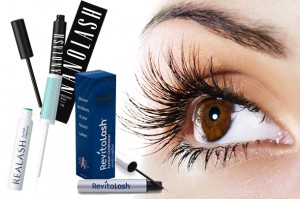 An eyelash serum is a kind of pretty specific yet fairly popular cosmetic. It is recommended for eyelash, eyebrows, and skin around eyes care. What is more, this sort of a product can be used by almost everyone regardless their age, sex or skin type, however, there are some exceptions. For example, if you have less than 18 years old, are expecting a baby, breastfeeding, are under a dermatologist or an ophthalmologist care or being treated in hospital, then you should not benefit from an eyelash serum. Fortunately, if you are a contact lenses, permanent make-up or false eyelashes wearer, or when you coat your eyelashes with henna, then you can undergo eyelash serum treatment freely. All you have to remember is to take off the contact lenses before applying an eyelash serum. You can reinsert these after approximately 15 minutes, just when the cosmetic gets absorbed fully. What is more, the serum neither dissolves adhesive used for false eyelashes attachment nor reacts chemically with henna or the pigment that is inserted under epidermis while performing permanent make-up.
How does an eyelash serum work?
In fact, the manner of working is strictly connected with the properties, ingredients, and application of the product. In most cases, an eyelash serum has eyelash extending, thickening, density improving, and hardening properties. If the composition contains moisturizing substances, vitamins and minerals, then the cosmetic will additionally nourish, regenerate and hydrate eyelashes. Furthermore, eyelash serums can be divided into two categories depending on the type of applicator provided: a thin eyeliner-like brush and a mascara-like wand. The one enumerated as a first is able to supply eyelash roots with active substances in such a way to make these obtain all the above-mentioned features. A mascara-like wand in turn curls, separates and coats eyelashes with the nourishing substances. Additionally, this kind of an applicator can smooth eyelash structure.
Eyelash serum contains plenty of natural substances. What is more, it takes care of not only eyelashes but also of skin around eyes. Despite eyelash-lengthening properties, the cosmetic comprises also of vitamins, minerals and plant extracts. These precious ingredients are, among others, keratin, glycerine, allantion, A, C and E vitamins, pumpkin seed extract, green tea as well as eyebright extract.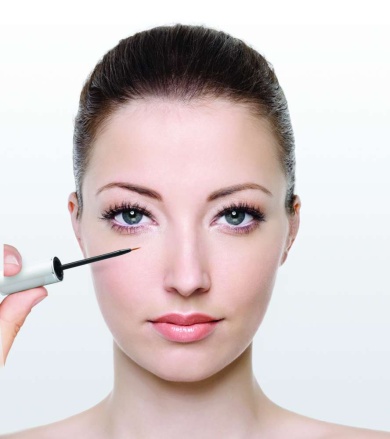 How should eyelash serum application look like? Before every single application of the product on eyelashes, one has to wash hands, remove make-up and dry out skin around eyes. Next, by using an eyeliner-like applicator, one has to draw a thin line right on upper and/or lower eyelash base. If an eyelash serum is equipped with a mascara-like wand, one has to glide it on eyelashes from the very base to the tips. As it can be easily noticed, application is similar to either an eyeliner or a mascara use. If applied properly, the cosmetic is not expected to run down into eyes, clump eyelashes, or stain eyelids. Generally speaking, the product should be absorbed quickly, although, there can be found eyelash serums requiring at least two or three minutes to get absorbed completely.
The first effects of eyelash serum treatment should be visible after approximately three weeks. The final ones, in turn, have to be noticeable after around a few months. When desired outcomes gained, an eyelash serum can be applied less frequently, just to support achieved effects. It may happen, although fairly scarcely, that an eyelash serum cause irritation. If any, even the slightest discomfort is developed, the treatment has to be discontinued for some period of time. Consultation with a physician is also recommended. When an eyelash serum gets somehow into eyes, it is suggested to rinse these with warm water immediately. Basically, the complete course of an eyelash serum treatment lasts more than six months. During this time, eyelashes are expected to extend their length, become denser and stronger. However, this outcome is possible to be produced only if the eyelash serum is applied regularly.